Residents of Manguchar organized a large protest to demand the recovery of their loved ones, who are victims of enforced disappearance orchestrated by Pakistan's infamour spy agency, the ISI.
Several relatives of Baloch missing persons staged a dharna in Manguchar Bazaar area of ​​Kalat district of Balochistan and blocked the Quetta-Karachi main highway in protest where hundreds of vehicles and thousands of passengers were stuck on both sides.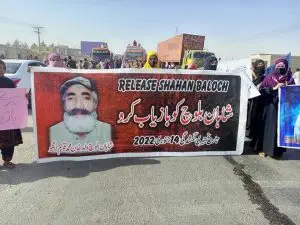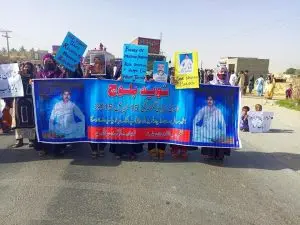 The protesters demanded the recovery of missing persons Shahan Baloch, Naveed Baloch, Muhammad Hasan Lango, Mehrullah Lango, Kifayatullah Nechari, Gaddafi Nechari among many others.
The participants of the sit-in said on this occasion that all our missing persons should be recovered and presented before the courts if they have done anything illegal.
It should be remembered that even earlier the same relatives of the missing Baloch had protested at Manguchar for recovery of their loved ones. They were assured last time by the government authorities that the missing persons will be produced but they failed to deliver on that promise.
The protesters managed to blocked the highway in protest until late night, and vowed to continue doing so, until those allegedly kidnapped by the Pakistani military could be returned to them.