SOUTH ASIA PRESS INVESTIGATES HOW THE PAKISTANI MILITARY OUTSOURCED THE TARGETING OF BALOCH SEPARATISTS AND POLITICAL ACTIVISTS TO PRIVATE MILITIAS KNOWN AS "DEATH SQUADS" IN THE PROVINCE AND HOW MANY OF THESE DEATH SQUAD OPERATIVES ARE NOW TURNING TO MAINSTREAM POLITICS IN THE PROVINCE, AGAIN WITH THE HELP OF THE PAKISTAN ARMY.
By a Baloch Reporter AND Taha Siddiqui
During the summer of 2020 in Pakistan, Major Nadeem Abbas Bhatti and soldiers under his command were on their way back to their military base in Kech district of Balochistan province after patrolling close to the Pakistan-Iran border. According to the Pakistani military, the team was looking for Baloch separatist groups when their vehicle came under attack. An improvised explosive device planted on the side of the road hit them. Six personnel were killed including Major Bhatti. The Balochistan Liberation Army (BLA), a Baloch ethno-nationalist separatist group, claimed responsibility for the attack.
Soon after the attack several photos of Major Bhatti from his time in Balochistan started to surface on social media showing him posing with unknown armed teenagers. Prominent Baloch political and separatist leaders took to social media to allege Bhatti was running a "death squad" and the teenagers he was posing with were part of the squad. Some further claimed that even at the time of the attack, Bhatti was traveling with death squad members. One such account says three Baloch teenagers were killed alongside the six officials.
"Major Nadeem Bhatti was involved with proxy militias…" tweeted Rahim Baloch, a central figure of Baloch National Movement, a political party in the province that calls for the region's independence from Pakistan. Rahim further claimed that three Baloch teenagers who had been recruited by Major Nadeem for death squads were also killed in this IED attack.
Rahim's tweet contained photos of Major Nadeem in different parts of Balochistan including one from an unknown location where Major Nadeem is seen with armed civilian men. The tweet also shows the above photo of two teenagers posing with automatic weapons.
Further investigations by South Asia Press led to the discovery of two other photos of the same teenagers that Rahim Baloch tweeted, posing with Major Nadeem Bhatti.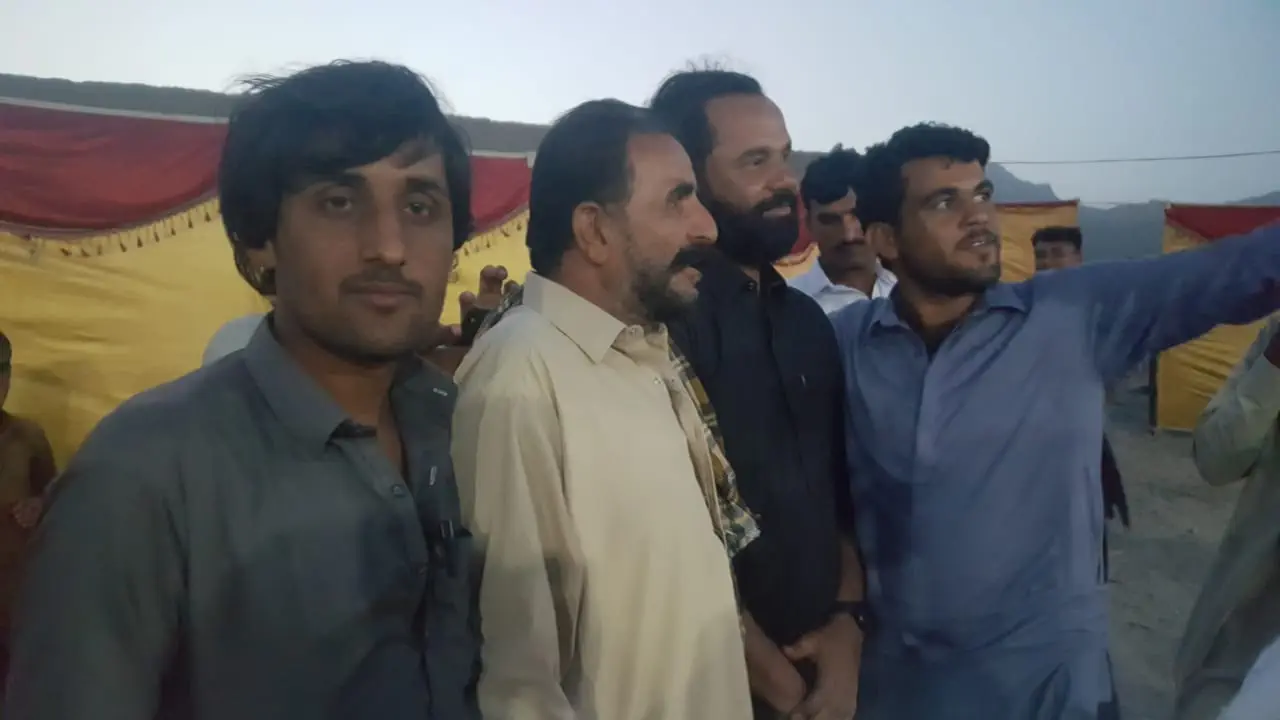 Multiple local sources confirm that these armed teenagers are indeed Baloch youngsters from Buleda, a town tucked between the Iran and Pakistan border, a town Major Nadeem Bhatti frequented.
DEATH SQUADS: THE ORIGINS
Like late Major Nadeem, many Pakistani military officials continue to work closely with death squads in the southwestern province of Balochistan, South Asia Press has learnt in a three-month long investigation.
Although there are reports that Pakistani military has been using such squads for decades now, our in-depth investigations point out that since 2010s, the practice of using death squads in the name of private militias has been institutionalized, especially in the south-western districts of Balochistan. This is the region where a full-fledged insurgency continues to rage since the mid 2000s, triggered by the killing of former Chief Minister of the province Nawab Akbar Khan Bugti in August 2006.
Bugti, an influential tribal chieftain was murdered along with more than 35 others when the Pakistan Air Force bombed his hideout inside Marri hills in Balochistan.
Pakistan's former dictator, General Pervez Musharraf, who was the country's military chief and president at the time ordered Bugti's assassination.
Since partition of South Asia in 1947, Balochistan has seen five ethnic Baloch separatist insurgencies and a brutal crackdown by the Pakistani state, ensuing a conflict which has claimed thousands of lives. The latest wave is considered to be the most violent by many accounts.
"Akbar Bugti's killing triggered a new wave of insurgency and it began from the southern parts of Balochistan. Middle-class youth especially from the south-west of Balochistan started to actively join the pro-independence movement," says a local Baloch journalist who has been covering conflict in the province over the past two decades.'.
He wishes to remain anonymous, for the fear of reprisal from the Pakistani military for openly speaking on this subject.
The editor says that to counter this new wave, since the late 2000s the Pakistan military has deployed several strategies, one of them being the formation of the private militias known as death squads, for which they recruit local criminals, drug lords and pro-Pakistan Baloch political activists.
"The Frontier Corps [the military's corps stationed in Balochistan], along with other paramilitary forces have been sponsoring private militias in south-western districts of the province in response to a rapidly rising Baloch nationalist insurgency there," the editor explains.
Besides death squads, another strategy employed by the military to suppress the local rebellion – especially in the northern parts of Balochistan – is to Islamize the youth, with the help of seminaries run by religious groups close to the military.
"In the northern parts of the province, Pakistani paramilitary forces promote radical Islamist groups to counter secular voices, especially of Pashtuns, who live mostly in the north of Balochistan," the editor further explains.
Reportedly, many of these Islamist groups in the north also have linkages with the members of death squads in the south, like that formed by the infamous Shafiq Mengal, who is credited to be one of the first to form such a private militia aka death squad in 2008.
DEATH SQUADS: THE BEGINNINGS
Shafiq Mengal is the son of Pakistani politician Mir Naseer Mengal from Khuzdar district, where he and his family currently reside. A drop out of the well-known Aitchison College in Lahore (the Alma mater of the current Pakistani Prime Minister Imran Khan), Shafiq also later attended a Deobandi seminary for religious education. His family is involved in the mining sector in Balochistan, an industry known to be run with military's patronage. Shafiq's father, who was part of General Zia ul Haq's government is also famous for signing the controversial Reko Diq mine deal as the caretaker Chief Minister of the province in 1993. The father joined Pakistani military dictator General Musharraf's party Pakistan Muslim League (PML-Q) (formed after Musharraf's coup in 1999) and then became the oil minister in the general's government. When PML-Q lost power in the 2008 elections and Musharraf resigned, his father disappeared from the political scene. But it was not the end of the road for the junior Mengal.
The same year, in 2008, Shafiq launched Baloch Mussallah Diffa Tanzeem (BDM), a tribal militia with the mission of defending Baloch locals from separatists. Locals say he had support of the Pakistani military in launching the militia, helping him acquire weapons. But instead of protecting the Baloch, Shafiq unleashed a reign of terror through the BDM, credited to be one of the first-known death squads of Balochistan. At first, he was only targeting suspected Baloch separatists but then he reportedly started killing political, non-political and criminal rivals too, as highlighted by the leading Pakistani daily Dawn in this report from 2014.
"Pakistan's powerful intelligence agencies and paramilitary forces permitted Shafiq to expand his private militia network and provided him unlicensed ammunition in large quantities and bomb proof vehicles, to fight against Baloch insurgents seeking separation from Pakistan," says a former bureaucrat from Balochistan, who also spoke on the condition of anonymity.
For the next three years, despite his murderous campaign, Shafiq managed to stay low profile, but all that changed in 2011 when he became the target of the first-ever suicide bombing by the Baloch Liberation Army (BLA), the same separatist insurgent group that recently killed Major Nadeem Bhatti in an IED attack.
According to the police, a car packed with around 50 kilograms of explosives tried to ram into the house of Shafiq Mengal. BLA said its suicide wing known as Majeed Brigade targeted him to avenge deaths of the Baloch targeted by his death squad. He and his family remained safe but 13 other people including women and children were killed in the attack according to local media reports.
Two years later as the 2013 general elections approached in Pakistan, Shafiq Mengal made headlines again, when Akhtar Mengal (not related), a politician and parliamentarian from Khuzdar (where Shafiq is headquartered) said his men were gunned down by a death squad run by Shafiq Mengal in their hometown, Khuzdar city, the capital of the district of the same name.
DEATH SQUADS: THE FAILED CONTAINMENT
Many say post the elections of 2013, there was an attempt to shift the government policy towards Balochistan initiated by the new chief minister (CM) Dr. Abdul Malik. Credited to be the first non-tribal leader to serve as the CM, with roots in the south-west of Balochistan, Baloch political circles say he was brought in to reconcile with the insurgency that the Pakistani military was grappling to deal with despite unleashing a deadly campaign of violence against the Baloch.
As Dr. Abdul Malik assumed power, he announced many measures to reconcile with the separatist Baloch including a crackdown against death squads. Just a few months into this crackdown, Abdul Malik faced his biggest challenge.
On January 25th, 2014, a local shepherd while herding his cattle stumbled across mass graves in a small town of Balochistan. He alerted the local authorities who reached the site and dug out several dead bodies buried together.
Government sources say they found 17 bodies only but Baloch activists dispute this and say around 169 dead bodies were recovered, as per reports in the international media.
The Balochistan government formed a judicial commission in February 2014 to launch a probe into the discovery of these bodies. And once again Shafiq Mengal name surfaced and he became the center of attention. Local media reports say the bodies were found near his property in Khuzdar's Tootak area, a deserted locality, and several locals have alleged his involvement in the mass graves.
Subsequently, the Pakistani Supreme Court also took notice, but to date no one has been held accountable and the government's commission report also remained inconclusive. Many of the suspects including Shafiq Mengal refused to appear before the commission.
"Everyone knew Shafiq Mengal's BDM and intelligence agencies were behind these mass graves. They were the dead bodies of missing persons. The judicial commission report was a mere eyewash like if you try to hide the sun with your hand," says the Baloch editor.
After Dr. Abdul Malik left office, he reportedly said that the Pakistani military, which is considered to be the de-facto power in the province, had also agreed to a crackdown against death squads. But was the military willing to deliver on its commitment? Seeing how Shafiq goes unpunished even today, it seems the military was never on board with Abdul Malik's plan.
The same year, Shafiq again became the center of attention but got away this time too. On May 25, 2014, eight levies security officials were allegedly killed by his men. A case was registered against him but despite the passage of several years now, there has been no progress in the case.
A Baloch politician, who was part of Dr. Malik's government at the time claimed that during following the killings of security officials, Shafiq Mengal sensed some pressure and moved to Afghanistan for some time.
"In Afghanistan, Shafiq Mengal developed a closer nexus with sectarian outfits in the Nangarhar province," the Baloch political leader claims, speaking on the conditions of anonymity, due to the sensitivity of the subject.
Shafiq Mengal's sectarian links were also confirmed in a 2017 investigation by the Police's Counter Terrorism Department (CTD) in Pakistan's Sindh province. In the investigation report available with South Asia Press, he is named as a suspect in having helped orchestrate sectarian attacks in the province, including the 2017 failed suicide bombing on a Shiites Imam Bargah (mosque) in Shikarpur city.
A suicide bomber, who could not detonate his explosive jacket told the Sindh police during interrogation that he stayed in Khuzdar city at Shafiq Mengal's residence before moving to Shikarpur to carry out the attack.
Baloch journalists on the ground say his links to such sectarian anti-Shia groups were not only developed with his time in Afghanistan but already existed in Pakistan, especially due to his relationship with Ramzan Mengal (not related), the provincial chief of the Ahl e Sunnat Wal Jammat (ASWJ) in Balochistan, a radical-right religious group that declares the Shia sect Kafir. ASWJ, formerly known as Sipah e Sahaba, is also known to be close to the Pakistani military establishment.
Journalists in Balochistan tell South Asia Press it is such religious alliances of Shafiq Mengal that provide him an out-of-jail card in Pakistan and keeps his relationship with the military establishment intact, even if the relationship has seen its ups and downs.
DEATHS SQUADS: THE NETWORK
By early 2010s, the experiment that started with Shafiq Mengal's death squad – to counter the insurgency fueled by Bugti's assassination – had spread across the province with the Frontier Corps (FC) allegedly backing similar militias in Khuzdar and other parts of south-west Balochistan, and like Shafiq's BDM, most of these private armed groups also quickly turned into death squads.
South Asia Press investigations reveal that the majority of such militias are run by hardcore criminals and drug lords, while a few of them are also led by extremists, pro Pakistan politicians, and former separatist insurgents who have surrendered to authorities under reconciliation schemes in the recent past.
During these investigations, it also emerged that five Balochistan districts are more known for death squads, namely Khuzdar, Awaran, Kech, Panjgur, and Mastung. Besides Mastung, the rest of these districts are next to each other and lie in the extreme southern part of the province where, as mentioned earlier, the Baloch insurgency is said to be the strongest. (Note: There are reports of death squads in some other parts of Balochistan too, scattered across the province, like in Dera Bugti, but South Asia Press was unable to find reliable sources on ground. However, we plan to focus on it in future). 

THE WHO'S WHO OF DEATH SQUADS
As illustrated in the above map, within Khuzdar district, besides Shafiq Mengal, another well-known private militia aka death squad organizer is Zakria M. Hasni. He is a young man in his thirties and is believed to be responsible for assassinations and abductions of people linked to the Baloch cause not just in Khuzdar but across Pakistan. His sister is an officer in the Pakistan Army, according to highly-placed sources, however South Asia Press could not independently verify this claim.
Just next to Khuzdar district, where Shafiq and Zakaria run their militias, is the Awaran district, considered to be the heart of the latest wave of Baloch insurgency. Here the private militia aka a death squad is led by Deen Mohammad Deenu, a former Baloch insurgent.
Next door to Awaran is the Kech district, where the military has supported several death squads, starting with that of Rashid Pathan, a known hardcore criminal. Rashid's brother-in-law was a key commander of Baloch Liberation Front, a separatist organization fighting the Pakistani state and was killed in a Pakistani intelligence operation with the help of Rashid in 2010. This insider info made Rashid a key ally for the military to find more about the Baloch insurgency which has been going strong in this district, especially around the city of Turbat.
Besides Rashid, Samir Sabzal is another hardcore criminal, also running a private militia in the district. He recently ran into police troubles after his death squad was involved in a shoot-out that resulted in the killing of a woman and injuring her five-year-old child.
Besides these two, another known militia chief from Kech is Sardar Aziz, who runs a religious seminary in the area since 2010.
Next door to the territory of these three death squads is the district Panjgur where Maqbool Shambezi – a drug kingpin involved in cross-border smuggling – leads a state-backed private militia. Little is known about this drug kingpin except that he is involved in the illegal trade and runs a death squad. Panjgur has witnessed a moderate insurgency in the area since the late 2000s.
Beyond these death squad clusters in the four adjacent districts, another infamous but recently defunct one to that South Asia Press was able to confirm information about from local sources was that of Baloch politician Siraj Raisani.
Siraj was running a private militia in Mastung until his recent killing. Besides running the squad, he comes from a politically active family with his brother – Nawab Aslam Raisani serving as the former Chief Minister of Balochistan.
FOCUS: KHUZDAR
ZAKARIA M HASNI'S REIGN OF TERROR
Along with Shafiq Mengal, a key recipient of support from the state since 2010 has been Zakria M Hasni.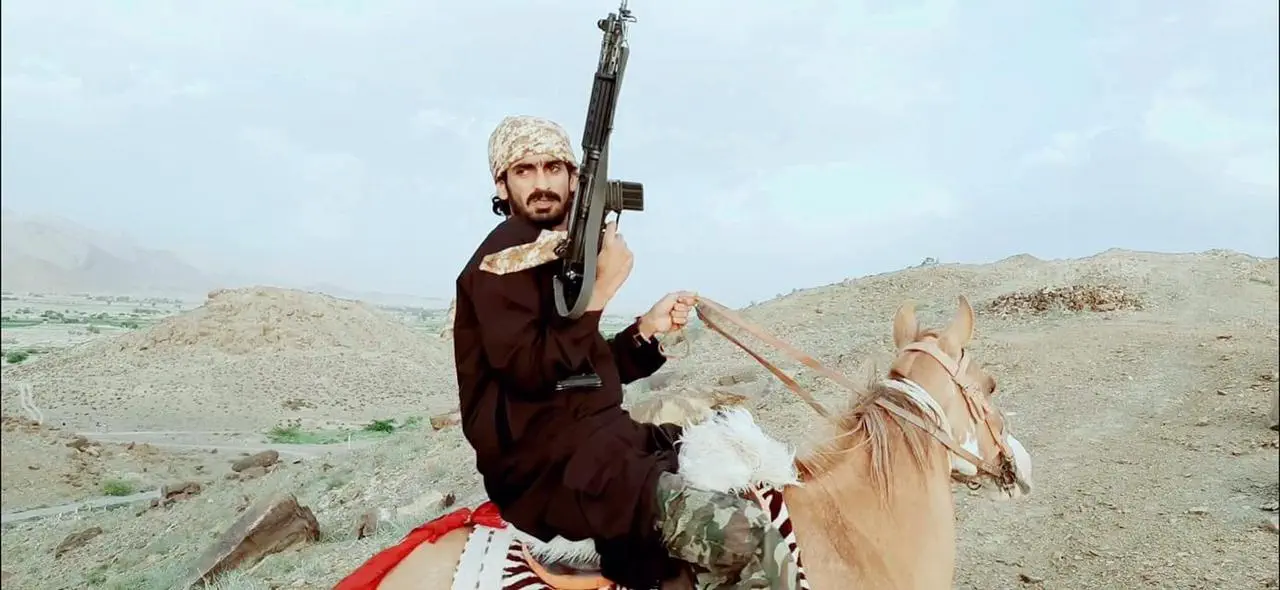 Zakria claims to local journalists that he fights BLA, BLF, and Baloch nationalist militants. Multiple images collected by South Asia Press show him riding a horse, holding AK47, and wearing prayer beads – symbolic attire that reflect his radical Islamic thinking. Zakria is also believed to be close to the local chapter of the so-called Islamic State – Islamic State of Khorasan (ISK), which encompasses modern-day Iran, Central Asia, Afghanistan, and Pakistan.
Zakria's foray into crime began with him imposing taxes on people involved in the mining business in Khuzdar around 2012. It was at this time he also became notorious for a graphic mobile phone photo showing him torturing a man identified as Mohammad Baloch. The image, published by a local daily paper called Tawar (translation: the Voice) (now banned) shows the man being tortured while he hangs upside down. The paper claimed the man was allegedly being tortured after his family failed to pay ransom for his release from the custody of military authorities.
The Baloch nationalist have also accused Zakria and his death squad in Khuzdar of torturing and killing political activists and nationalists. Zakria's close circles that South Asia Press spoke to claimed he has also admitted to being involved in the killing of Sabeen Mahmud, a progressive Pakistani human rights activist, and social worker. Sabeen was murdered after she held a talk on Balochistan at her intellectual initiative in Karachi. This claim could not be independently verified and further details are not available to establish the extent of his involvement. A Baloch journalist also told South Asia Press Zakria claims to be involved in the deadly attack on prominent Pakistani TV journalist Hamid Mir in Karachi. Mir surived the attack. This claim could also be not independently verified.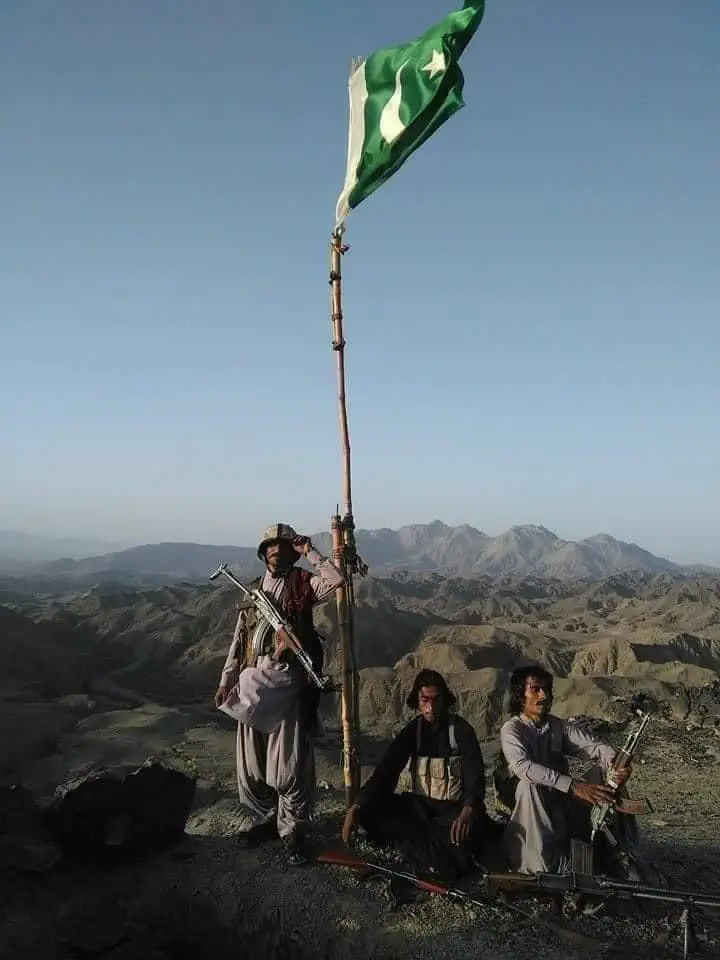 Like other death squad chiefs mentioned blow, eyewitness accounts say he roams openly in the province with automatic weapons. He is also known for organizing rallies on Pakistani national days in Khuzdar.
FOCUS: AWARAN
THE DEATH SQUAD CHIEF WHO LOVES FACEBOOK
South-west of Khuzdar district where Shafiq and Zakria run their squads is the Awaran district, where Deen Mohammad aka Deenu runs a private militia. Awaran is considered to be Balochistan's most volatile region in the south-west as it also serves as the headquarter of the Balochistan Liberation Front (BLF), a separatist armed group currently led by Dr. Allah Nazar, a medical doctor who went underground in 2008 and joined the Baloch resistance.
According to Baloch sources, Deenu is himself a former insurgent, and was once close to Dr. Allah Nazar Baloch, commanding BLF in the Mashkey region of Awaran district but he surrendered to the forces in 2017 under the Balochistan Reconciliation Process.
Exact reasons for him changing sides are not known but experts say the reconciliation process is usually a way out for those who want safety for themselves and do not want their families to be harassed by the state any more. Money is another motivation for leaving the insurgency, as the government offers a significant amount of cash to those who give up arms.
Deenu also has the support of another of Dr Allah Nazar's former close associate – his brother-in-law Mehrullah Baloch, who lives in city of Hub, near Karachi.
Since leaving the rebellion, several photos documenting Deenu's atrocities in Awaran have appeared on social media, with him posing for the camera. A photo posted on Facebook in April 2018 shows Deenu with a group of Pakistan Army soldiers in Awaran district.
Sources say these photographs (show above) are from a joint operation by Deenu and the military against Baloch separatists hiding in Awaran's mountainous region.
FOCUS: KECH
RASHID PATHAN: PART TIME DEATH SQUAD CHIEF, PART TIME CRIMINAL
Next door to Awaran district is the Kech district which has also seen its fair amount of insurgency and therefore death squads.
In the early 2010s, Rashid Pathan started to emerge as a terror face in Kech's district capital – Turbat.
An illiterate man with a criminal past, Rashid comes from a poor background. Before leading his private militia allegedly with the help of Pakistani military, he was involved in robbery and burglaries in his home district of Kech.
South Asia Press investigations reveal that Pathan was introduced to the military through Imam Bheel, a local drug kingpin, named as one of the four main drug barons in the world in 2009 by the US administration under the then President Barack Obama. (NOTE: Bheel has been politically connected to the military since General Musharraf's time, and South Asia Press will be releasing a separate investigation into his activities soon).
As mentioned earlier, Rashid forged closer ties with the military after he helped them catch and kill his brother-in-law. At his peak, Rashid Pathan commanded a core of more than 100 loyalists, mostly criminals. Baloch political activists say he has been involved in attacks against members of Baloch Students Organization (BSO-Azad) and BLF (Balochistan Liberation Front), who have a strong hold in the Kech district. Rashid is also accused of killing Imdad Baloch, a leader of BNM, and Jahangir Baloch, central secretary general of BSO-Azad in Kech district in 2013. He also helped the FC in its operations in Kech district, including taking over local Baloch property, as reported by the daily Dawn in 2014.
"The military armed Rashid Pathan and used him to attack pro-separatists," says the former bureaucrat who also served in Kech district.
"Rashid is feared more than the police. He is known to harass businessmen, government officers, and politicians in Turbat," the bureaucrat adds, further claiming that despite Rashid's criminal activities, no one can touch him because of his perceived connections with the military intelligence (MI). "He raided houses and abducted people in the areas where the military could not navigate the population," the bureaucrat explains.
Rashid recently moved out of the region and is said to be setting up base in Gwadar since 2018. Since then, he has kept a low profile as far criminal activities are concerned but Baloch sources say Pathan's previous affiliation with Imam Bheel may have been the reason for his move to Gwadar, since the alleged drug baron is reportedly involved in forcibly acquiring Baloch land for Pakistani armed forces in Gwadar (and in the adjacent Kech district too) since 2018.
FOCUS: KECH
SAMIR SABZAL – THE DEATH SQUAD CHIEF ABOVE THE LAW
Since Rashid Pathan's departure from Kech District towards the south in Gwadar, locals in Turbat area say the paramilitary force FC started to support another known criminal Samir Sabzal, who launched his own private militia in the name of defending the Baloch. The thirty-year-old's career as a death squad chief almost came to an abrupt end last summer but his alleged connections to the military came to rescue.
On May 26th four people broke into a house in Dannuk, a dusty village, west of the main Turbat city. The intruders met with resistance from women inside the house who managed to overpower one of them. The rest, while fleeing fired and killed one of the women named Malik Naz and injured her 5-years-old daughter Bramsh. The man caught by the family admitted he was working for Samir Sabzal's private militia. Balochistan and especially Turbat city erupted in widespread protests following this revelation and Samir was subsequently arrested and charged with murder and robbery. But he was recently acquitted by the courts due to lack of evidence, which many say is a sign of his strong connections inside the military establishment.
A family member of the killed woman who does not want to reveal their identity due to fear told South Asia Press that Samir was even protected during his short time in custody. "Samir was shifted to his home in Absar in Turbat at night and brought back to the prison in the morning," the family member alleged.
Like other death squad organizers, Samir also gained the trust of the Pakistani military by orchestrating rallies on Pakistan's Independence Day and other national holidays before starting his own private militia to hunt the Baloch.
"Such display of patriotism is often orchestrated in the province to show to the world that the Baloch are happy with Pakistan," says a local from Kech, who has witnessed Samir co-organizing such patriotic events with the help of the Pakistani military officials stationed in Kech district.
Like Deenu, Samir is also a fan of using Facebook and often posts videos on the social media platform where he is seen traveling through Balochistan, especially in Turbat city. In one such video viewed by South Asia Press, he can be seen traveling with an armed convoy of four-wheel SUVs that have installed state-of-the-art signal jammers, in a bid to stay safe from IED attacks, like the one that killed Major Nadeem Bhatti. In this video Samir can also be seen passing through a military check post while openly displaying a weapon, but his car and the convoy do not get stopped and checked.
FOCUS: KECH
SARDAR AZIZ: MANAGING A MOSQUE, MADRASSA AND A DEATH SQUAD 
Another known figure running a private militias in this district is Sardar Aziz who leads the alleged death squad with his two sons Meeran Aziz and Shah Meer. Meeran is said to be close to Rashid Pathan too.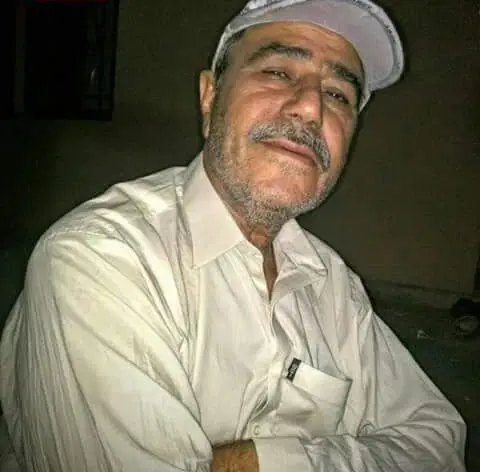 The Aziz family belongs to Pidark, an impoverished town located in the west of Turbat, the district headquarters.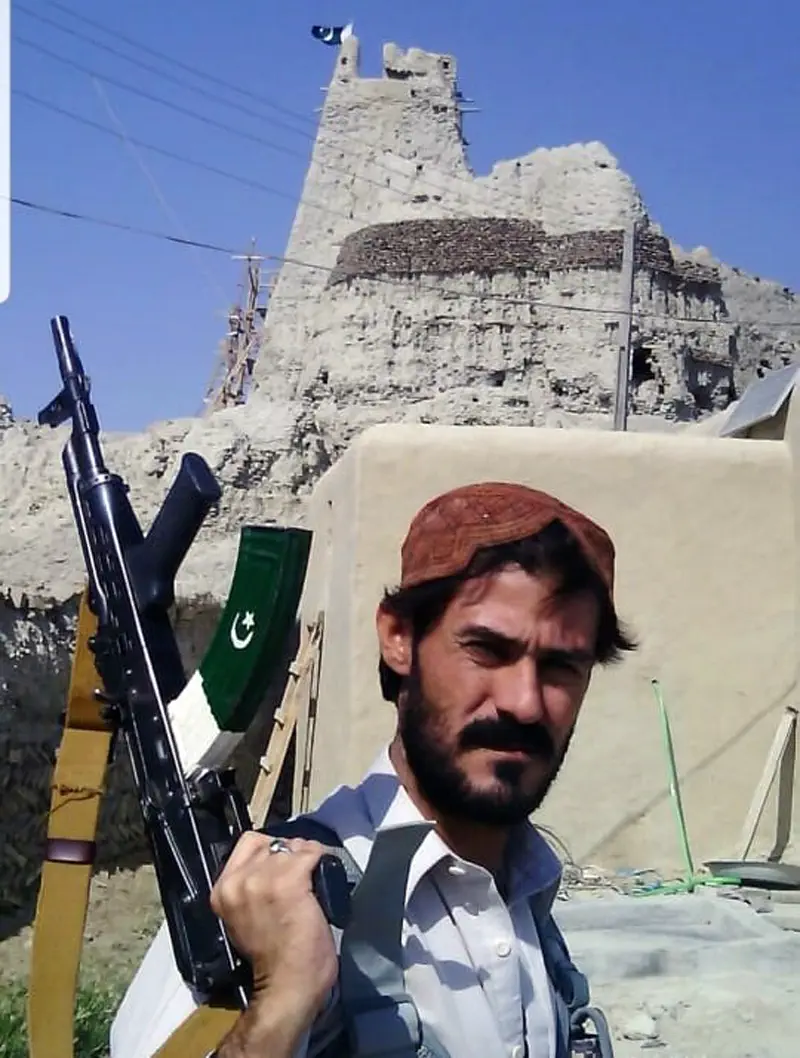 In Pidark, Sardar established a mosque and a madrassa (a religious seminary) in 2010. Locals tell South Asia Press poor families in the area enroll their children at Sardar's religious school to benefit from free food and lodging. The locals further add Sardar is not a religious man but through his seminary he has gained influence in the region, especially with the military that considers him an important ally for running a private militia and also helping them Islamize the Baloch population. Today, his seminary is also known as a recruiting ground for jihadis going to Afghanistan and other regional conflicts.
In 2014, Sardar and his sons are accused of carrying out a spate of attacks on members of the Zikri community, a religious minority, settled in the region.
Zikris have a strong affiliation with Balochistan, are believed to be nationalists in their thought and actions, and this affiliation led them to become a target by Sardar.
FOCUS: MASTUNG
THE RISE AND FALL OF NAWAB SIRAJ RAISANI
Besides the cluster of the four districts in south-west mentioned above where the insurgency is the strongest and therefore countered with death squads, military operations and Islamization, another district where there is heavy presence of such private militias, is Mastung district. Here Nawab Siraj Raisani, the brother of the former chief minister of Balochistan Nawab Aslam Raisani, ran a death squad until his recent killing, according to South Asia Press investigations.
Siraj launched a group called Balochistan Muttahida Mahaz (BMM) in 2010 in Mastung district but it is said to also have had influence in the city of Kalat and Quetta.
Like other private militias, Siraj's BMM was also accused of kidnapping and killing Baloch separatist and activists in the Mastung region.
Family insiders say that Siraj did not get along with his brother Aslam Raisani, who opposed his alliance with the military. This rift also became quite visible during the last general elections in 2018 when Siraj announced that he would be contesting against his older brother on the ticket of Balochistan Awami Party (BAP), a newly formed political group, believed to be launched by the country's military establishment to counter Baloch ethno-nationalist groups.
Siraj had announced the merger of his BMM with BAP (Balochistan Awami Party) a few months before elections but days before the vote in July 2018, Siraj was killed in a suicide bombing. It was claimed by the so-called Islamic State but Baloch sources dispute this saying Siraj was actually killed in a revenge bombing by Lashkar-e-Jhangvi (LeJ), an off-shoot of the state-aligned extremist group ASWJ, which as reported earlier is known to be close to many of the private militias, including that of Shafiq Mengal.
LeJ started as militant wing in the 1990s for the Sunni extremist group (known as Sipah e Sahaba at that time) but went rogue subsequently. It also recently pledged allegiance to the Islamic State of Khorasan (ISK).
Siraj, who was close to such Sunni extremist groups used his links to reportedly pass confidential information to the Pakistani military about Mohammad Usman alias Saif Ullah Kurd, a leader of the rogue LeJ. A Baloch journalist claims that Siraj, who was a friend of Kurd, trapped him by calling him to a hotel in Quetta. Soon after Kurd's arrival, the military reached the spot and gunned him down. In retaliation to this killing, LeJ ordered a hit on Siraj and may have asked the Islamic State to claim it.
To many's surprise, Siraj's funeral was attended by the current Pakistan Army chief General Qamar Jawed Bajwa who declared Siraj Raisani a 'Soldier of Pakistan'. Siraj who was not that well known before his killing became an overnight hero with Pakistani media running special segments in his memory, showing his photos and videos of organizing pro-Pakistan events in Mastung where he was also seen tarnishing Indian flags.
His open hate for India is said to be one of many reasons why he became close to the Pakistani military establishment, that tries to paint the indigenous Baloch rebellion as Indian-sponsored.
Since his killing, the private militia he ran has gone dormant as it appears the rest of his family members want to stay away from such activities.
MAINSTREAMING THE DEATH SQUADS
Although the Pakistani military continues to provide support to many of these death squads in the province, journalists, activists and political sources South Asia Press interviewed say there has been a gradual policy-shift in the last few years.
"In the past paramilitary Frontier Corps trained and armed notorious criminals to fight against Baloch insurgents. But they [the intelligence agencies] have made a few changes in their old policies now. They are now converting the death squads into political parties in the region to prevent Baloch ethnic nationalists from winning the polls. Same old notorious Islamist militants are also being washed to head the political parties," says a Baloch politician from Makran division of the province. [The division comprises of three districts, Kech, Panjgur and Gwadar].
The politician seems on point as there are already signs of this and once again Shafiq Mengal seems to be at the center of this new policy being tried out.
He contested the last polls after returning from Afghanistan some time before the 2018 general elections but did not succeed. And recently, in January 2021, he has announced the launch of his own political party, while there are also reports to suggest that he may join the Pakistan Army-backed BAP (Balochistan Awami Party) which currently leads the Balochistan government. Many of BAP members recently met with Shafiq Mengal in Islamabad last month, reportedly to discuss his entry into politics.
But analysts say this new policy of mainstreaming death squads is destined to be unsuccessful too.
"The state's policy to run death squads, introduce Islamization and engineer political manipulations – all of it has failed in Balochistan," says Mir Mohammad Ali Talpur, a veteran of the 1970s Baloch insurgency, and a newspaper columnist.
"Despite these crackdowns, the resistance of the Baloch continues and the alienation of the Baloch people vis-a-vis the state is only increasing," he concludes.
xxx THE END xxx