By SOUTH ASIA PRESS Team
In an exclusive internal document (dated 8th June 2021) obtained by South Asia Press, Pakistan's mission in Afghanistan has written a letter to the Pakistan's Foreign Ministry detailing the case of 24 Pakistani women imprisoned with their children in Afghanistan for having ties with the so-called Islamic State local chapter IS-Khorasan.
South Asia Press team spoke to one of the family members of the women on the list, who confirmed that their daughter was being held in prison for over a year now.
"She had problems at home with her husband. She did not approach us and instead approached her friend from a local seminary, who recruited her, and took her to Afghanistan," says her relative, speaking to South Asia Press by telephone from Lahore city.
The document mentions how many of these Pakistani women are mothers and living with their children. Some of them also have Pakistani husbands that have been detained in different parts of Afghanistan for militant activity. In some cases, the women have already spent their prison time and are yet not freed.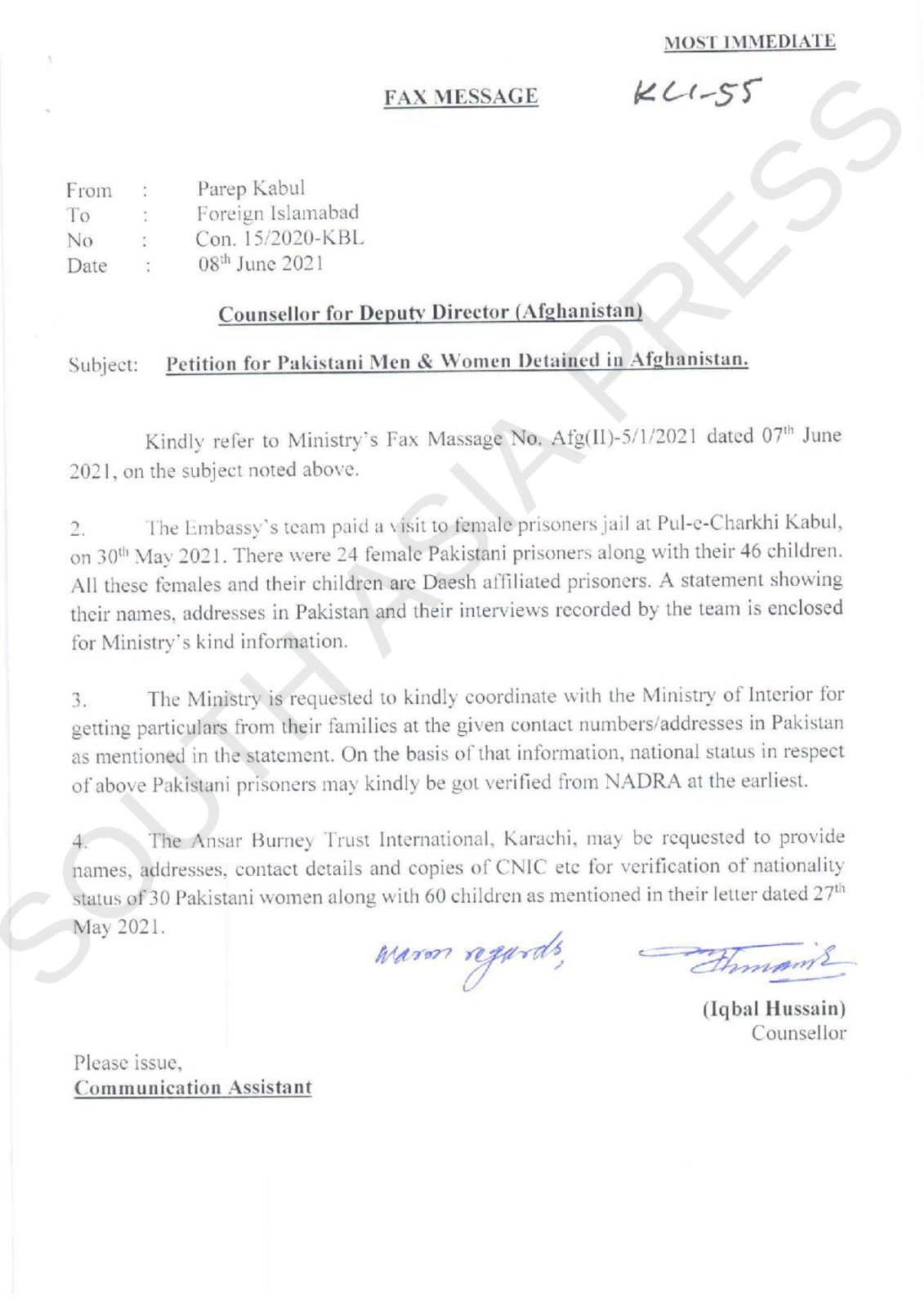 SOUTH ASIA PRESS HAS THE FULL DOCUMENT IN ITS POSSESSION, AND YOU CAN VIEW IT HERE ON OUR TWITTER PROFILE: WWW.TWITTER.COM/SOUTHASIAPRESS 
The Pakistani government officially maintains that the Islamic State group is not active in the country, and that they do not allow people to cross over into Afghanistan to join militant groups. However, the communication in the document obtained by South Asia Press between the officials of Ministry of Foreign Affairs in Pakistan is in clear contradiction of that claim.
Pakistani women joining militant groups in Afghanistan and elsewhere in the region is reflective of a larger trend, ongoing since the last few years, where there are several cases of women in Pakistan being radicalised and leaving the country. Many of these women have been educated in high-profile institutions and live in urban centres of the country. These young women are inspired by the ideology of the IS and are radicalised through seminaries in Pakistan.
In a famous case from 2017, the Pakistani police and intelligence agencies revealed how a woman from Hyderabad Sindh had joined the group, admitting officially for the first time that women were being recruited for the IS from Pakistan. Noreen Jabbar Laghari, a university student, shared extremely radical religious views on her social media accounts, and it was found that seminaries of Islamist groups were working in educational institutions in this part of Southern Pakistan and radicalising students.
As United States and its allied forces do complete withdrawal from Afghanistan this September, there appears to be a growing trend of more and more people joining such militant groups. According to a recent investigative report by a well-known German media, Pakistani militant groups have intensified their collection for donations and funds and for recruiting, while Pakistani state authorities turn a blind eye.
In conversation with the German news outlet Duetsch Welle, a former Pakistani parliamentarian claimed that the Taliban was recruiting militants from Pakistan: "Come to Balochistan, and I will show the villages and areas where clerics are openly attending the funerals of those Pakistanis killed in Afghanistan while fighting for the Taliban."
For the last 50 years, Pakistan has fanned Islamist movements in Afghanistan and in the northern parts of the country to weaken and counter nationalist sentiments among the Pashtuns population inhabiting this region. Pakistan has steadily supplied new recruits to Islamist militant movements in Afghanistan, a trend which continues even today with state authorities remaining complicit to protect their own interests.