FATF MUST BLACKLIST PAKISTAN AND NOT COME UNDER PRESSURE OF CHINA
JOINT PROTEST AND CONFERENCE BY EXILED DISSIDENTS BELONGING TO BALOCH, PASHTUN, UYGHUR, TIBETAN AND HONG KONGER COMMUNITIES OUTSIDE THE FATF HEADQUARTERS IN PARIS ON 2OTH FEBRUARY, 2021.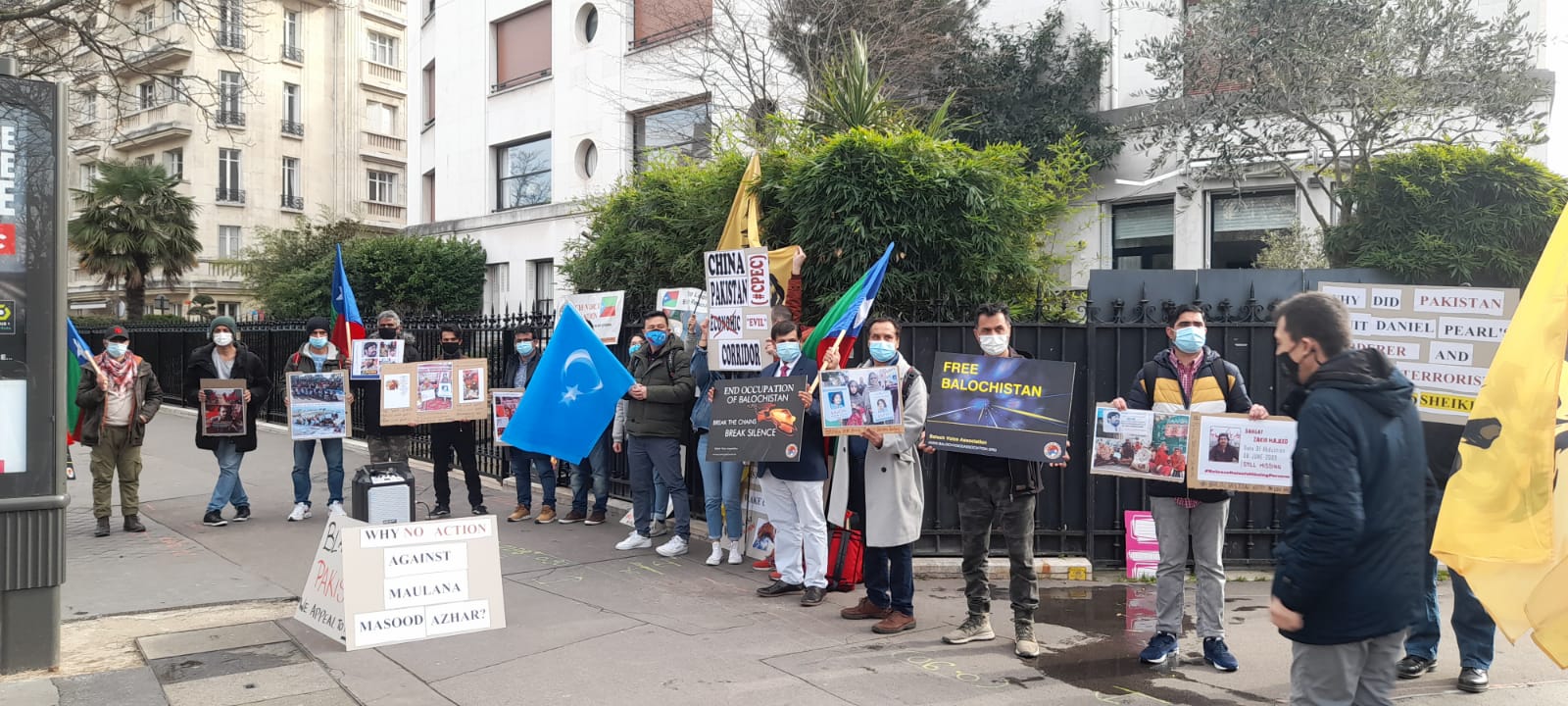 PARIS, France
As members of the Financial Action Task Force (FATF) meet from 22nd February to 25th February to decide the fate of Pakistan, dissidents of Baloch, Pashtun, Uyghur, Tibet and Hong Kong origin organized a protest outside the FATF headquarters urging the international monitoring body to blacklist Pakistan and deliver on its mandate of stopping terror financing and sponsoring from Pakistan.
TERROR NETWORKS CONTINUE TO OPERATE FREELY IN PAKISTAN
While Pakistan has been repeatedly adopting the tactic of showcasing taking action against terror financing by placing senior terror group leaders under arrest ahead of FATF plenaries, these UN listed entities, like the Lashkar e Taiba (now rebranded as Jamat ud Dawa -JuD) and Jaish e Mohammad (JeM) continue to function freely in the country including collecting funds.
The charity front of JuD, the Falah e Insaniyat Foundation (FeF) has continued to collect funds. FeF chief Hafiz Abdur Rauf has remained active including openly delivering sermons. Similarly, Talha Saeed, son of Jamaat ud Dawa leader Hafiz Saeed and a designated a terrorist by the US Treasury dept, has been active and addressed gatherings in recent months. Similarly, JuD offices including the Markaz Al Quds in Lahore are able to raise funds to meet their monthly expenditures. The JuD's social media team functions unhindered advertising their fund collection drives.
Jaish e Muhammmad (JeM) has also been openly collecting funds, often to support families of 'martyrs' or jihadists killed during operations.
In order to avoid detection by FATF, Pakistan has moved JeM training camps and fighters to Afghanistan.
The recent acquittal and orders of release of known terror operative Ahmed Omar Saeed Shiekh, who was sentenced for the abduction and killing of US journalist Daniel Pearl, is also an indication that the deep links between the terror groups and the Pakistani State remains in place.
Moreover, Pakistan has allowed militants in Balochistan and Khyber Pakhtunkhwa province to openly collect funds and regroup, as reported by mainstream media in recent months. Even Pakistani parliamentarian Mohsin Dawar warned of militants regrouping in the tribal belt, in a recent interview.
Also, recently Nobel Peace laureate and girls' rights activist Malala Yousafzai received public threats on social media by the former spokersperson of the Pakistani Taliban Ehsanullah Ehsan, who mysteriously escaped from military custody recently, and has become active in the field again. Fingers point to Pakistan military's complicity in the escape of this high profile terrorist.
CHINA'S ROLE AT FATF
China, a close strategic partner of Pakistan, has been defending and often covering up for Pakistan's links to terror groups. It has stood by Pakistan in the UNSC and other multilateral forums on this issue.
For instance, China, for a decade, blocked the listing of Jaish-e-Mohammed (JeM) chief Masood Azhar as a global terrorist under the United Nations sanctions regime. Though Beijing repeatedly asserts that it is against terrorism, but it justified its UNSC vote against putting Azhar on the list by saying there wasn't enough evidence against Azhar and citing "procedural problems".
This lack of Chinese commitment to counter terror is also expected influence China's diplomatic support in the FATF, where China is likely to shield Pakistan from accountability. It may be noted that the success of the USD 60 billion China-Pakistan Economic Corridor, a project where China has huge strategic and economic stake, will depend on Pakistan escaping accountability of the FATF.
We call upon the FATF member nations not to be pressurized by China into letting Pakistan off the hook. This should not be allowed especially because it will not only embolden Pakistan to carry on using terror groups as strategic assets against its adversaries, but also use them against their own people like the Baloch and Pashtuns, who are already facing grave human rights violations.
FATF has in the past, during its review on China, noted the lack of transparency in China sharing data on money laundering and terror financing cases. FATF has also noted that China's rack record on targeted financial sanctions related to both terrorist financing and proliferation financing is poor, and China should fundamentally strengthen its legal framework and the implementation of these United Nations-mandated sanction regimes and work with financial institutions and designated non-financial businesses and professions to achieve implementation without delay.
China's support to Pakistan in overlooking its sponsoring terror groups, is reciprocated by the latter in completely ignoring China's human rights repression in Xinjiang, Tibet and Hong Kong. If the FATF succumbs to Chinese pressure and does not blacklist Pakistan, it will indirectly be responsible for the continued abuses against the people of these regions.
NOTE FROM THE ORGANIZER:
The protest was planned and organized by The Dissident Club which has brought together the Pakistani and Chinese dissidents for the first time in France. Post the protest, the participants met for a conference at The Dissident Club and vowed to continue their peaceful struggle through a joint action forum to continue to raise awareness about Pakistan-China nexus in France and in Europe and remind the West of its commitments of eradicating all kinds of terrorism and ensuring human rights globally. The community organizers will soon meet for another virtual conference to finalize the future course of action.
The Dissident Club is an intellectual space co-founded by Taha Siddiqui, an award-winning Pakistani journalist in exile.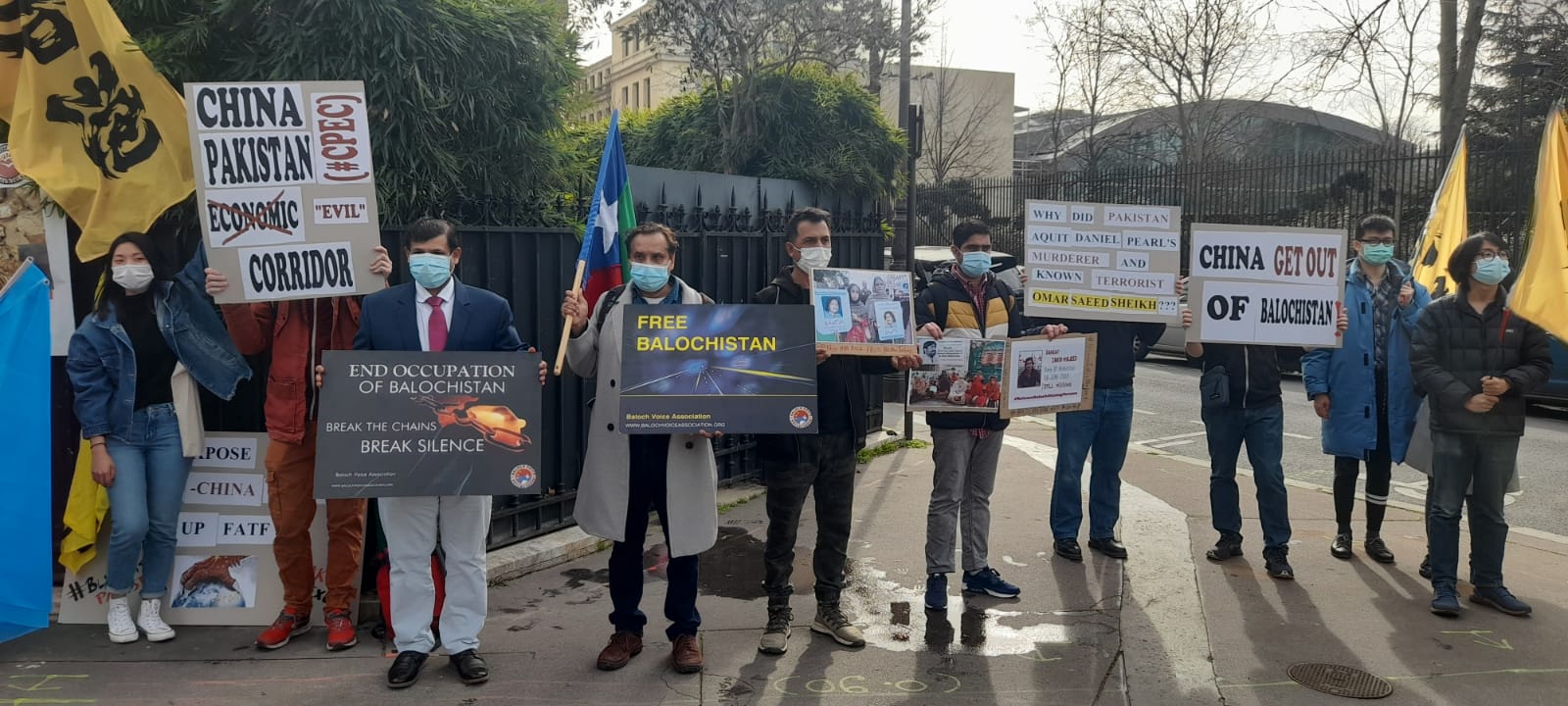 Protesters hold placards saying "China get out Balochistan" and "Why did Pakistan acquit Daniel Pearl's murderer and known terrorist Omar Saeed Sheikh?
STATEMENTS BY COMMUNITY ORGANIZERS
DISSIDENTS FROM PASHTUN REGION: As representative of Pashtun Nation, I would like to request International community particularly FATF to take tougher action against Pakistan which is responsible for terrorism financing, terrorists training not only International region but all around the world. Recently, China has also entered into this dirty business by supporting terrorist states like Pakistan on one hand on international fora and directly supporting some terrorist groups in Afghanistan on the other. The release of Omar Sheikh, the killer of Daniel Pearl by the Highest court of Pakistan clearly indicates the non-seriousness of Pakistan to combat terrorism and terror financing: FAZAL-UR REHMAN AFRIDI, Pashtun Human Rights Activist
DISSIDENTS FROM BALOCH REGION: Balochistan is an occupied territory by Pakistan and now it is being colonized by China. There is a nexus of Pakistan and China. In Balochistan there are many Chinese projects which are currently ongoing in the name of development – but these projects are only to benefit the elites of Pakistan and China. There is no gas, no hospitals, no schools in the area where this development is happening. They are making roads to connect Balochistan to China but why cannot they build schools, hospitals, etc.? There is massive financial corruption in these projects. We reject Chinese imperialism and this forceful marriage between the Baloch region and China. Balochistan is an occupied territory and China must directly talk to the Baloch if it wants to do so-called development in the region. Currently, Pakistan has forced the Baloch to migrate from the regions where China is investing through military operations. The China Pakistan Economic Corridor has displaced thousands of Baloch and forced them to become refugees on their own land: Dr. Naseem Baloch – Victim of enforced disappearance in Pakistan, 7 years in exile in France, Diaspora Community Organizer Baloch National Movement
Today our one of the utmost objective of protesting in front of the FATF headquarters is to ask from this Global organization is to take action against Pakistan which is continously violating the International laws in various aspects. As for as FATF mandate is concerned Pakistan is using local people deposits and international various funding amounts to finance International and local Terrorist Organizations. Particularly in Balochistan Quetta Shura Council is still operating and working as a head quarter for various religious terrorist organizations, by the financial and logistic support of Pakistan and I. S. I.
Kesh Mohammad, Lashkar-e-Tahaffuz Balochistan, Lashkar-e-Khurasan and many religious terrorist organizations have penetrated deeply inside Balochistan Which Pakistan Army is using as force to combat Baloch National struggle whom are struggling to end occupation of their Land by the Islamic state of Pakistan.
Pakistan is using these organizations to attack, humiliate, abduct and loot people. Just take a look of only one example of seven-years-old Bramash Baloch. Pakistani goons attacked her home, looted valuable materials and killed her mother in front of her eyes. She also received was shot and injured.
Baloch Zikri community and Hazara community, people, religious worship places, and even tombs have been attacked by these state-backed groups.
Pakistani authorities intentionally allow these organizations and finance and support them to threaten secular lifestyle of the Baloch. Working Baloch women have been attacked at various places by acid to force them to remain indoors. Many schools have been burned and threatening messages have been left by these organizations, many at times using Pakistani Army Helicopters to terrorize the Baloch people and particularly women.
Secondly another objective of FATF is to stop financing proliferation of weapons of mass destruction. Balochistan is under occupation of Pakistan and Pakistan is using Baloch land for testing its nuclear arms and other weapons of mass destruction. Recently Pakistan claimed testing of Ghori 6 ballistic missile. The missile reportedly fell in Balochistan's Dera Bugti area and more then twenty people lost their lives with scored injured.
We request this august international organization to keep a check on China also. Unfortunately, China for its strategic designs and to gain strategic depth in Balochistan is financing Pakistan in name of China-Pakistan Economic Corridor to eliminate Baloch people from their land. We have reports that China is not only exploiting resources of Balochistan but it is also extracting Uranium from the mountains of Balochistan namely from Koh e Suleman and Koh e Murdar.
Pakistan has already been using US military aid to run its campaigns against the secular Baloch people besides funding religious terrorist organizations. Now similarly the borrowings and financial aids by China are also being used by Pakistan against the Baloch people. The designs of Pakistan and China towards the Baloch land and Balochistan are not hidden from anybody. This CPEC is a colonization project locally and internationally will be used as a launching military pad to terrorize regional and international communities.
At the end I request from this international organization to take action against Pakistan and China for violating the FATF and international laws and norms with respect to financial and mega projects. Munir Mengal President Baloch Voice Association.
DISSIDENTS FROM HONG KONG: Beijing's strategy allows regional dictatorships (no matter in Pakistan, Africa or in other Asian regions) to rebuild a rent-based economy based on the massive exploitation of raw materials without any real transfer of wealth or know-how to local populations. As a result, the pressure to improve governance and for the democratization of existing regimes have become much less effective. China proves to be able to expand its imperialism through the economic colonization in the developing countries. The Jiwani and Gwadar ports in Pakistan are the good examples. We, the Comité pour la Liberté à HK and AHKF, oppose such kind of economic and cultural imperialism, which hinders the regional democratization and political reforms.
DISSIDENTS FROM TIBET REGION:
The Beijing authorities have eyes on the rest of the world. Its expansionism knows no borders. The method is well known. An economic conquest by China becomes a debt trap for its partners, who ultimately lose their independence under the weight of Chinese debt. The case of the Port of Colombo in Sri Lanka is emblematic. Pakistan or Nepal can no longer contest Chinese decisions. Dictatorships repressing their people in Burma or North Korea have the assent of Beijing, anxious to broadcast a system of values not respectful of human rights. And this is problematic when we know that the the Chinese Communist Party (CCP) wants to remake a global "multi-lateralism" in its own way, with its phagocytosis of UN institutions, for example. The Himalayan region has its own strategic challenges, but which have implications for the rest of the world. The Silk Roads project which will redraw the map of the world thanks to Chinese infrastructure projects, anti-ecological, is also one of the causes of the genocide of Uyghurs. In Tibet, hydraulic dams built by China endanger survival populations downstream, nearly 3 billion people, and a tool of the Sino-Indian Cold war. This Sino-Indian war results in Tibet as an over-militarized place, obviously at the opposite end of the peaceful vision (from the Buddhism) of the Tibetan people. We remind here that we want the independence of Tibet. What Tibet has experienced in 60 years of occupation, other countries, others peoples are now experiencing: Students for a Free Tibet / SFT France
DISSIDENTS BELONGING TO UYGHUR REGION: As Uyghurs from East Turkistan (Xinjiang by the communist Chinese regime) who are experiencing the harshest oppression by China-Pakistan cooperation, using the excuse of anti terrorism, we want to tell the whole world: China, you must immediately stop the cultural genocide that you are conducting in East Turkistan. Uyghurs are never terrorists. In fact, in that region (Pakistan, Afghanistan and etc.), you are the one who funded terrorism. Then, you blame, torture and diminish the innocent Uyghurs for all the crimes and terrorists attacks that you financially helped. Your evil purpose of this is just to wipe out the Uyghurs. China, who is locking up and oppressing millions of innocent Uyghurs is actually the real terrorists – Adil Kasim, Representative France Uyghur Association.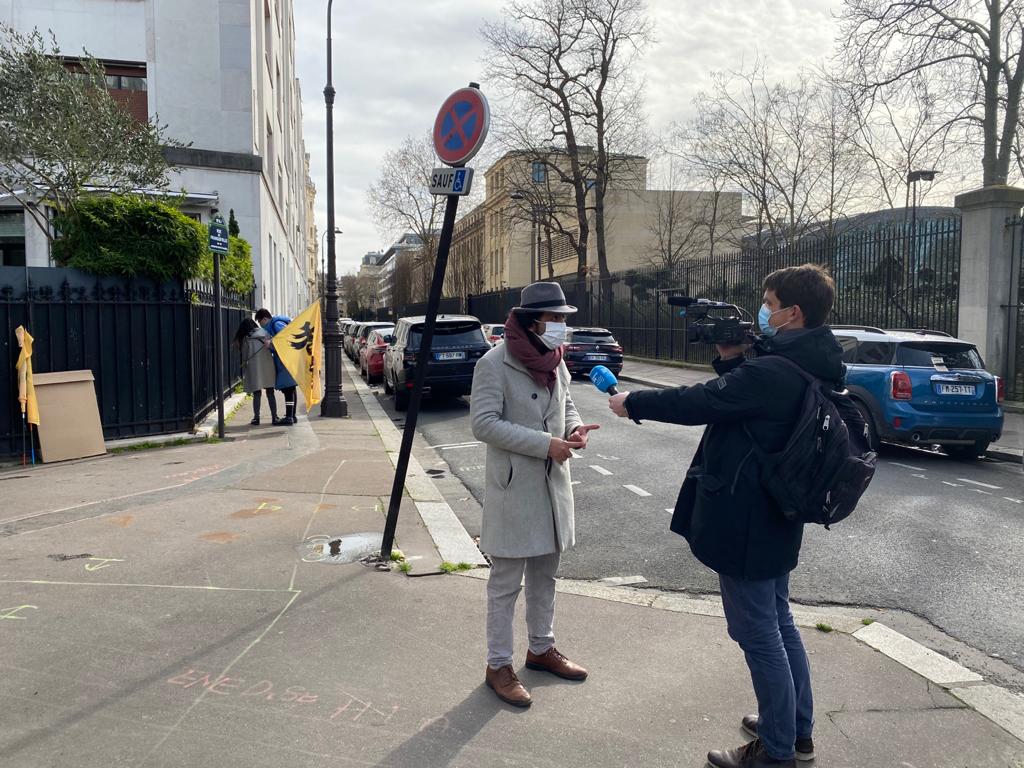 Taha Siddiqui, one of the organizers of the protest, gives an interview to the news channel France24, which covered the protest.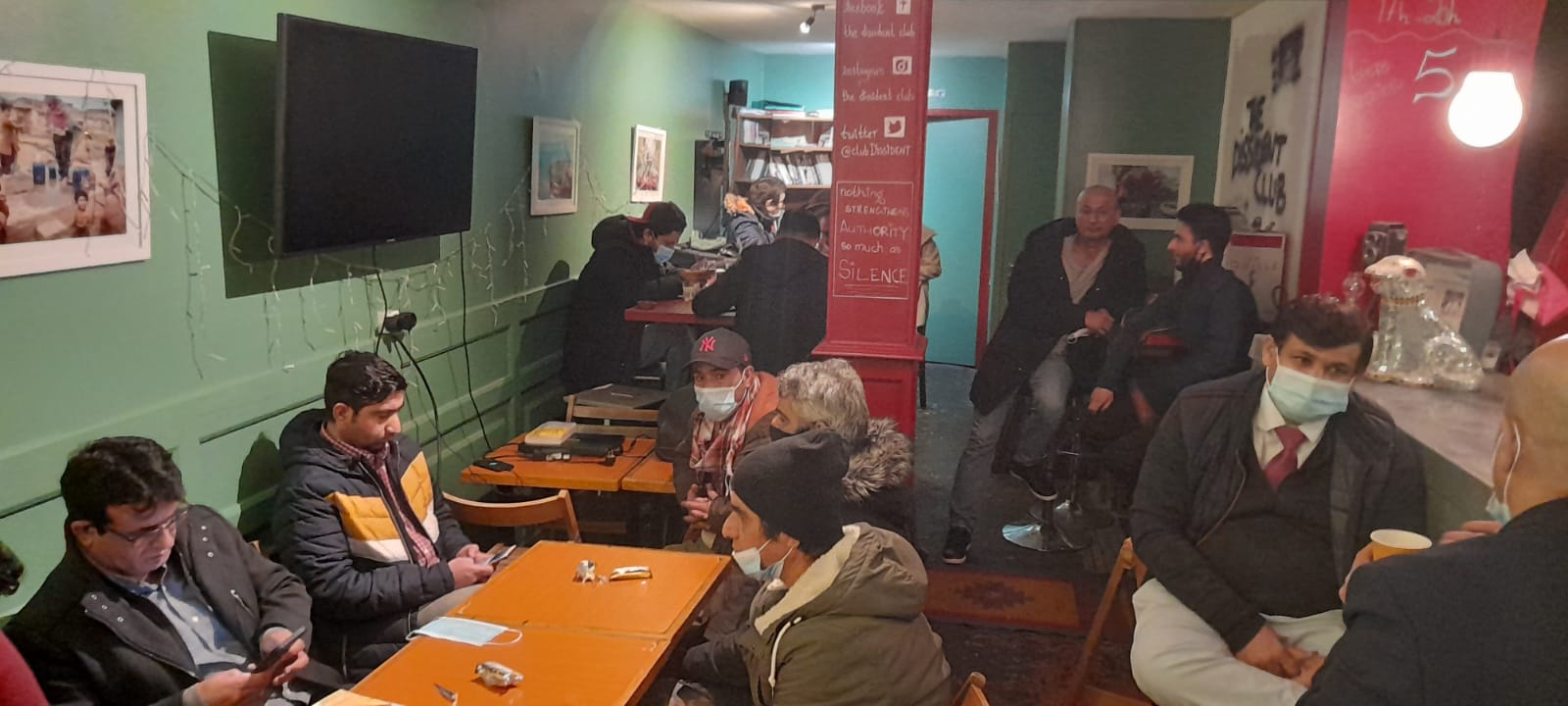 Joint conference at the DISSIDENT club in Paris, post the protest to chart out future course of action.
Media coverage of the event: